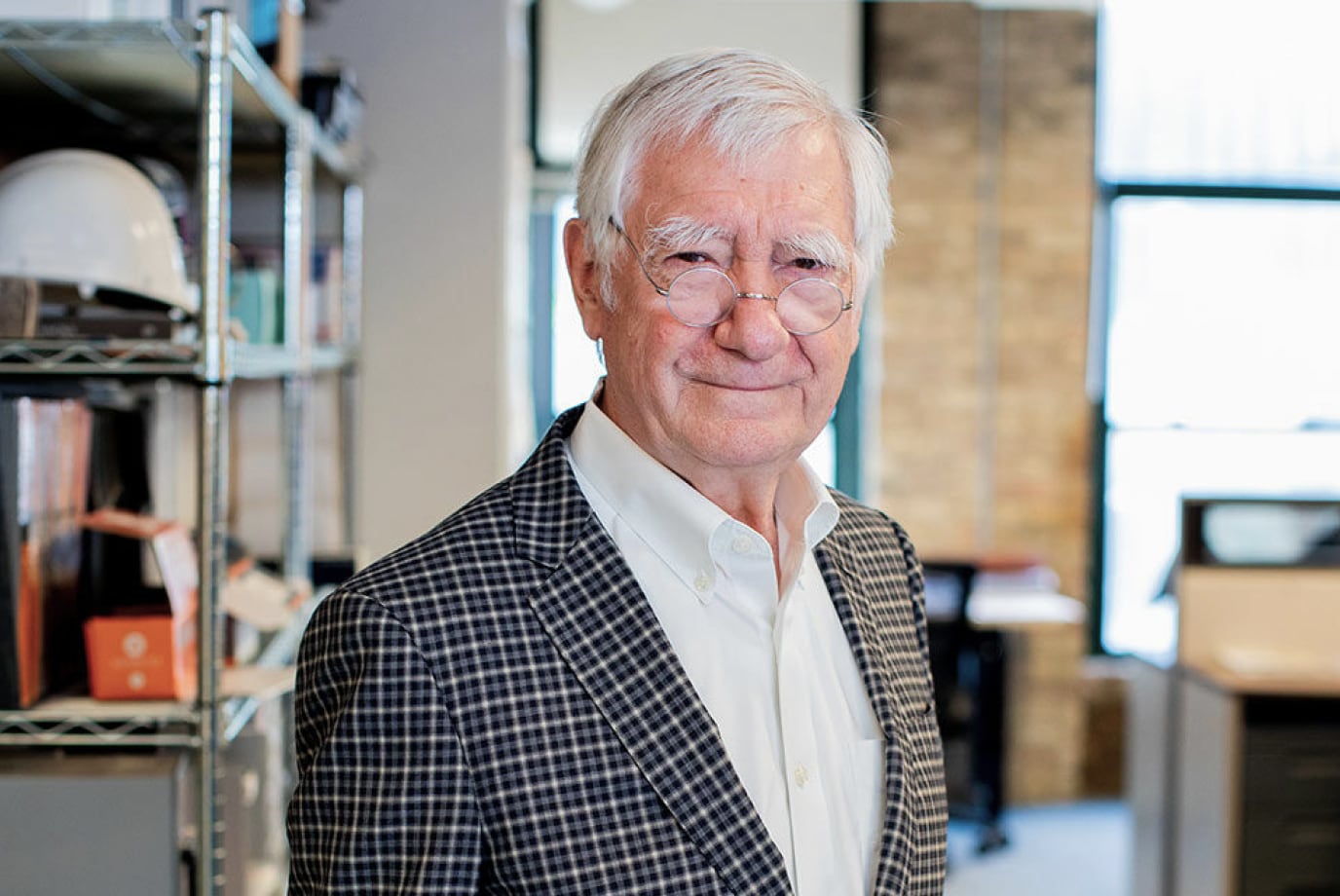 Over the last 30 years, it's difficult to name a single architect who has done more to resurrect the storied elegance and by-gone grandeur of downtown Chicago than Lucien Lagrange. His portfolio is filled with buildings that have become instant landmarks, equally beloved by sidewalk strollers for their external grace and beauty as by their owners for their ability to blend time-honored craftsmanship with modern sensibilities regarding space, comfort, and functionality.
Some were created from the ground up, including the soaring Park Tower at 800 N. Michigan Avenue, the stately condos at 10 E. Delaware, and the Beaux Arts beauty that is 65 E. Goethe in the Gold Coast. And others were incredibly complex historic renovations, including the modernization of the Blackstone Hotel and the conversion of the Continental and Commercial National Bank into the JW Marriott in the Loop.
What binds all these disparate projects together is Lagrange's desire to create what he calls "humanistic architecture."
"When you're inside a building, you have to ask yourself, "How do I feel now that I'm inside?" says Lagrange. That's very important. People who live in my buildings have told me many times, "I love it when I come home; I feel at home there."
But this year, Lagrange is embarking on a decidedly new challenge, taking his unique talents to Winnetka for the firs large-scale suburban project of his career: a village-within-a-village concept called The WINN at Lincoln and Elm, which will artfully plant 15 private residences, five maisonettes and 36 luxury apartments in the heart of one of the North Shore's most picturesque locales.
Lagrange says he's approached the project no differently than he has any of his previous masterpieces, exploring first and foremost how he could build a structure that melds into the surrounding environment and generate an authentic landscape that mirrors the lifestyles and tastes of the community.
"It's important to think about transitions," says Lagrange. "The transitions from inside to outside have to be designed to create a sense of enclosure and comfort. When you walk on the street, the building has to come down and greet you as you walk by. And when you're inside, you have to consider how people will look out into the world from their space."
Although the The WINN is a more horizontal structure that Lagrange often works on with his urban projects—which extends beyond Chicago to New York and China—the surrounding leafy environment has presented him with new opportunities. In Winnetka, he's been able to use bricks and stones and mansard roofs to reflect the town's rich history, all while leveraging the excess green space to create stunning one-of-a-kind views.
Views from within the condos will drift eastward toward the lake as well as peer out in the opposite direction into a sea-green garden of leafy trees. Apartments will face Winnetka's village hall, while a central drive-in courtyard, carefully planted within the curl of The WINN's U-shaped design, will act as the project's centerpiece. In addition, ground-floor retail will add a selection of boutique-worthy shops and retail, giving the complex added energy and style.
Interior designs are guaranteed to be equally stunning. In The WINN's condos, elevator will open directly to individual units. Expansive two-floor maisonettes will offer sprawling spaces. And then there are the building's signature terraces, which will be as large as 10 by 20 feet. To top it all off, expect living spaces appointed with Lagrange's penchant for selecting exquisite accouterments.
"What I know is that people love what I do," says Lagrange. "There's no question about it. I update the quality of living for people. We lost some quality and elegance due to modern architecture, and I'm bringing it back. We can do that in the suburbs as well. This is going to raise the quality, architecturally speaking, and living spaces. It's going to be a great addition to Winnetka."
Source: Hinsdale Living
Next Article