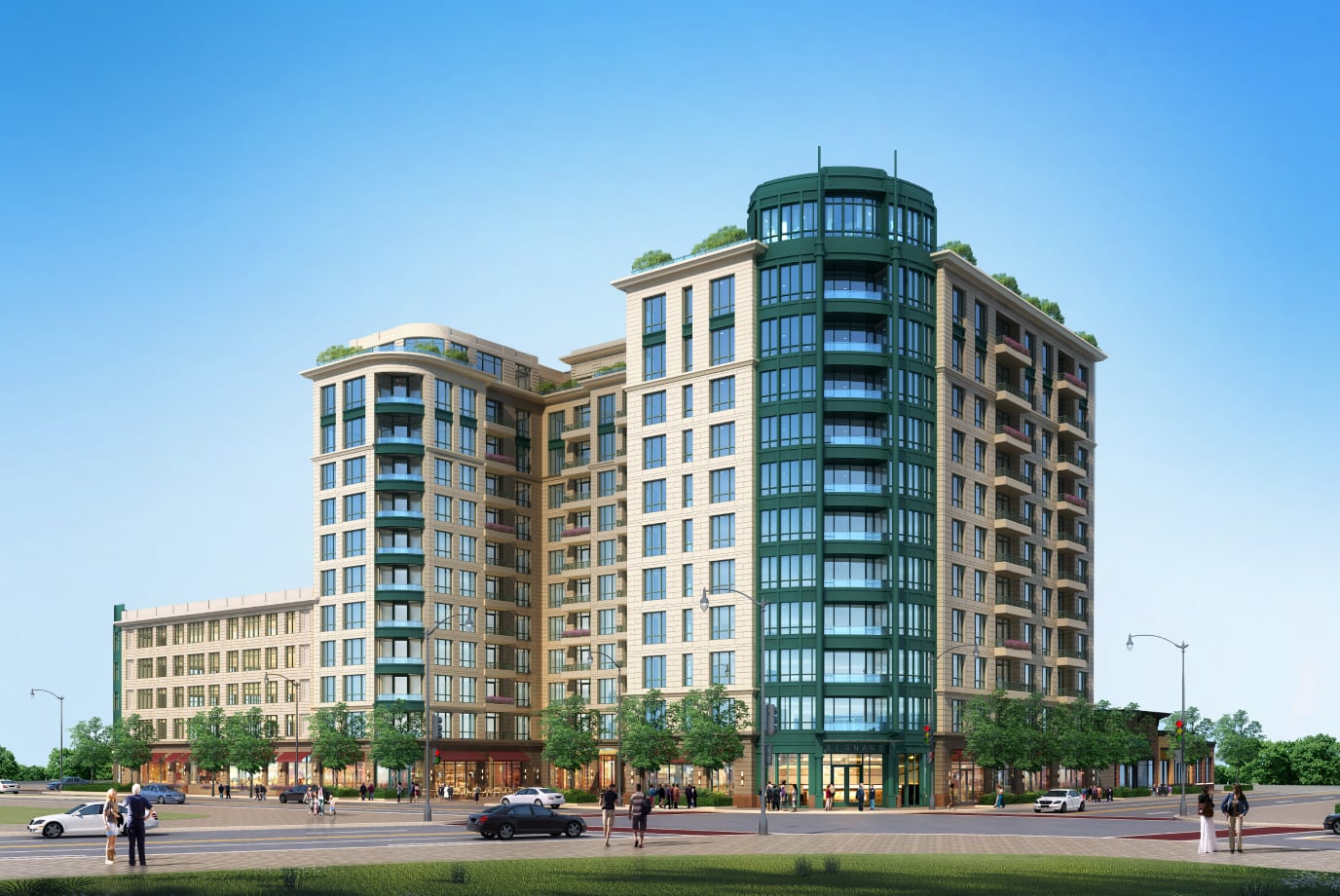 Luxury apartment plan in Skokie clears first hurdle
Plans for a 12-story luxury apartment building in downtown Skokie designed by eminent architecture firm Lucien Lagrange Studio moved forward this week.
The village's Appearance Commission approved the proposed 153-unit building, which would occupy a one-acre parcel at Lincoln Avenue and Oakton Street. The village acquired the site from two closed businesses, a restaurant and a cocktail lounge, in the past few years as part of its downtown revitalization plan.
The apartments are expected to rent for about $1,400 a month for a studio to $4,000 for a three-bedroom, said John Dragic, managing principal at the developer, Winnetka-based Greenspire Capital.
"There's been nothing at this level built in downtown Skokie in years," Dragic said. The draws for potential renters will be the restaurants and other services in Skokie's walkable downtown, jobs a few blocks away in the Illinois Science & Technology Park and the relatively low rents compared to next-door Evanston, he said.
"We think we'll be able to compete as a more affordable alternative," Dragic said.
At one comparable building in downtown Evanston, Centrum Evanston, the advertised rents run from almost $1,800 for a studio to $4,662 for a three-bedroom apartment.
The Skokie project, dubbed 8000 North, would take advantage of being one of the tallest around, Dragic said, by having its amenity floor on top, the 12th floor, where "we have views down to the (Chicago) skyline and over to Lake Michigan." That floor would have a fitness center, a party room, outdoor grilling areas and terraces.
"It's a little bit of downtown vertical living in Skokie," he said. The condo high-rises at Optima Old Orchard Woods in Skokie, where some units are available for rent, are in an all-driving location more than two miles from the village's downtown area.
The 8000 North project, first announced in September, still needs approval from Skokie's plan commission and village board. The project will go before the plan commission in December, Dragic said. If all approvals are in hand by early 2018, he said, groundbreaking would come soon after and the building will be ready for first move-ins by late 2019.
In recent years several developments have polished up Skokie's core, including the opening of the CTA's Yellow Line station on Oakton in 2012, said Anne Tennes, the village's director of marketing. Others include townhouses, a development of single-family homes on Floral Avenue and a recently approved video gamers' lounge.
Tennes said 8000 North is expected to cost more than $60 million to build.
Lucien Lagrange is the architect of several upper-market residential towers in downtown Chicago neighborhoods, including the Park Tower, the Ritz-Carlton Residences and 65 E. Goethe.
Source: Crain's