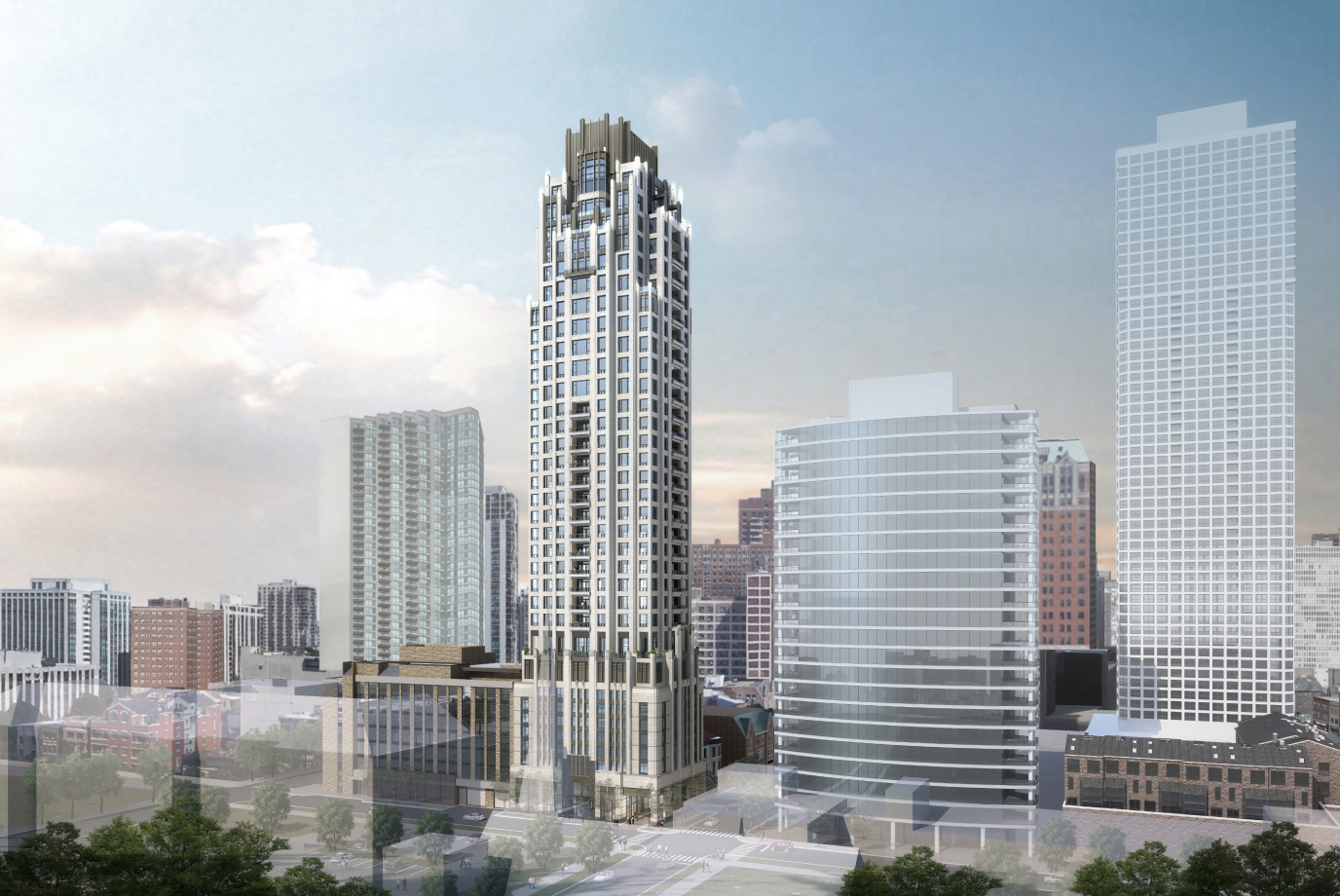 Lagrange Points to Stellar Development in Chicago's Gold Coast Orbit
In a city awash in value-engineered rectangles on squares, a new project from O.G. Chicago architect Lucien Lagrange is a welcome change. Nahla Capital has filed paperwork with the city to build 40 West Oak, a new 35-story residential tower on Oak between Clark and Dearborn Streets.
It was almost exactly a year ago that we told you the Warren Barr Pavilion's parking garage was going to make way for a 75-unit condominium building overlooking the Newberry Library. The new building includes a 160-car parking garage, which will be shared with the Barr residents to make up for the loss of their existing parking.
Even though this building is in Chicago's Near North neighborhood, residents will feel like they're in the Gold Coast. Not just because this building will be clad in granite and limestone instead of cheap pre-cast concrete panels. But because they get to brag about living in a Lucien Lagrange-designed building.
We regularly hear people who live down near 50-something-th Street complain that Mr. Lagrange's designs have about as much to do with Chicago as Cinderella's Castle at Disney World has to do with Bavaria. But the truth is that the Lagrange style only appears to be a Belle Époque ripoff to people who have forgotten that Chicago's Gold Coast used to be lousy with mansard roofs, wrought iron balustrades, and carriage houses with actual carriages in them. That Lagrange has found a niche serving those who long for something different, something historic, and something resembling a slice of Chicago culture past speaks to the conditions of the market, and not to any deficiencies in the imagination of the person who created them. Diversity in the skyline is what keeps Chicago from looking like Vancouver.
Here are the details:
Address: 46-74 West Oak Street
Address: 1000-1006 North Dearborn Street
Address: 1001-1007 North Clark Street
Developer: 40 West Oak Owner LLC
For realsies: Nahla Capital
Architecture firm: Lucien Lagrange Studio
Architect: Lucien Lagrange
Zoning: C2-5 Motor Vehicle-Related → DX-10 Downtown Mixed-Use → Residential Planned Development
Net site area: 29,616 square feet

Barr Pavilion: 19,140 square feet
Residential tower: 10,476 square feet

Floor area ratio: 11.34

Barr Pavilion: 6.94
Residential tower: 19.39

Tower maximum height: 465 feet, eight inches
Parking podium height: 106 feet, six inches
Floors: 35
Tower residences: 75
Tower residential access: via both Dearborn and Oak Streets
Automobile parking: 160 spaces
Parking garage access: Entrance on Dearborn Street, exit on Oak Street
Loading docks: 1
Loading dock access: angled on the corner of the existing north-south driveway through the property and the existing east-west alley through the property
Source: Chicago Architecture